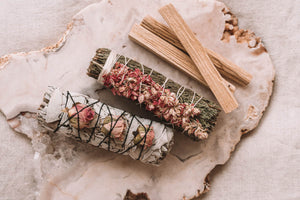 A green woody fragrance with spicy notes of sage, rosemary, cedar wood, pine needle, incense and palo santo wood.
A luxurious blend of the most beautiful hand-selected scents and quality dried botanicals.
Capturing the magnetic beauty of nature and combining it with aromas and essential oils to create a harmony of botanical notes.
Why you'll love 1 ounce of solid soy wax, blended with natural dried botanicals Highly scented.
Gentle on the environment Vegan and cruelty-free Paraben-free.
Remember to always check that your burner is suitable for melting wax and never use your burner for more than 4 hours at a time.